DtechMail
Email Features – All in One Suit
Packed with Features
Enjoy email composer, read tracking, quick attachment previewing, attachment saving and sharing, email reminders and many, many more.
Easy to Use
CrossBox is recognized for its exceptional in-app user experience. You'll notice how immediately it feels comfortable and easy to navigate. It just feels right.
GDPR Compliant
Constructed to be fully compliant with strict EU privacy regulations. It's a genuine self-hosted solution, with you in absolute control of your data. Your data, your rights.
Everything You'll Ever Need
intelligent features that help you achieve more
Mighty Email Composer
Effortlessly write professional and content-rich emails with CrossBox's simple to use and agile email composer. You can format your email's text in detail, insert images, drag-n-drop files and even edit the HTML source itself.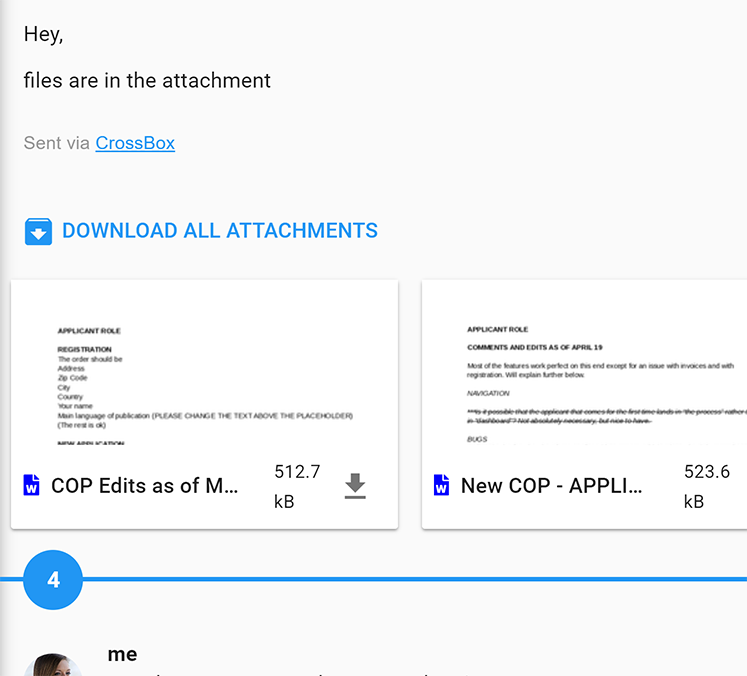 Email Attachment Preview
Not knowing what's in that .docx or .xlxs file without actually downloading it is now a thing of the past. Documents, audio, and even video files are fully previewable within CrossBox.
Attachment Saving & Sharing
Quickly sharing an email attachment wasn't possible till CrossBox moved in. You can now promptly and securely share an email attachment with a co-worker, your team or anyone in the world.
Beautiful Email Signatures
Choose from over 50 ready to use, professional looking email signatures that help you leave a permanent impression. You can also create a custom signature with images and links by using our robust HTML editor.
Reminders
Often feel not ready to respond to an email right away, but then you forget about it all together? Not to worry, this happens to all of us. Just create an email reminder, and it'll notify you in time.
Delayed Sending
Set a timer to keep an outgoing email message in a temporary queue. In case you change your mind, you can stop an email from being sent with a simple click.
Read Notifications
CrossBox's powerful email tracking provides you a much-needed report about the read status of the emails you send. You'll receive an instant push notification as soon as someone sees your email.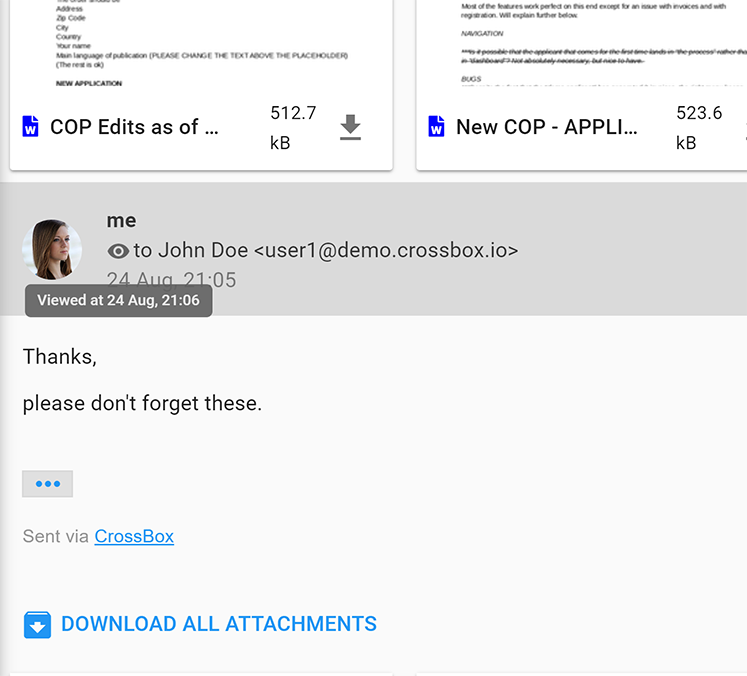 Spam Indicator
Native Support
Spam Learning
Teach an AI to classify spam
Anti Identity Spoofing
Know when someone is faking identity
Custom Email Folders
Organise your email space by separating emails into different mailboxes. For better visual distinguishability, you can give each mailbox its appropriate icon and color.
Conditions and Actions
Lets you create a set of circumstances to match and moves to execute when a new email arrives. For instance, you might want to transfer an email to a different mailbox and mark it as read if the conditions you defined are satisfied.
Advanced Search
Never again waste time in an endless search for that email you for sure know is there. CrossBox can locate and highlight precisely what you're looking for, in under 200ms. It even hunts down on a deeply buried email attachment you received years ago.